It feels like Thanksgiving season is started very early this year and we think we know why. Thanks to covid, many of us have been only minimally socializing with friends and family. And as far as drinks-nights and Sunday brunches with friends, there have been few. After about six months of staying close to home with only our quarantine bubble for company, the upcoming holiday feels like a reprieve. But celebrating Thanksgiving in 2020 will definitely be unique.
According to Numerator, a market research company, "more than two-thirds of consumers [are] expecting to celebrate the holiday differently than last year." The most pronounced way Americans are doing that is by having smaller Thanksgiving feasts with fewer guests. But no one should mistake these alternative holiday celebrations for indifference. On the contrary, most Americans hold the upcoming holiday in higher regard than last year.
So we thought we'd find out how people are celebrating Thanksgiving in 2020, from how they're decorating the house to what vinos they're putting on the Thanksgiving table.
Celebrating Thanksgiving: The Booziest Thanksgiving
You may have already surmised this much, but market researchers have confirmed: There will be more alcohol at this year's Thanksgiving dinner! In a recent survey, researchers crunched some numbers and found that alcohol sales have been up in general for the year and say they'll go up even more for the holiday.
If you're planning to bring home a few bottles of wine, the experts at FoodandWine.com suggest selecting a light-bodied red because it will go with all the different side dishes. Leslie Hartman, sommelier at The French Room in Dallas, says Pinot noir is a good choice. She calls it a "food friendly wine." Other light-bodied reds include Zinfandel and Syrah.
As for white wines, Rieslings are very flexible. TheSpruceEats.com says, "this white wine can either be bone dry or fairly sweet, and it's excellent with any dishes that are spicy, salty, or sweet." On the other hand, a Pinot Grigio is "a natural for the demands of Thanksgiving because it's capable of handling garlic and onions, herbs and rich, flavorful, high-fat dishes."
For households partial to drinking beer, we checked in with the Culinary Institute of America to get suggestions on how to pair turkey with brews. "No super-light or immense beers—avoid the extremes," says Professor John Fischer. Since Thanksgiving meals tend to be rich, "the beer should be refreshing, and a bit of bitterness from hops can [provide a good] balance." He suggests a brown ale like Brooklyn Oktoberfest or Brooklyn Winter Lager by Brooklyn Brewery. A blonde Belgian style beer like Tank 7 from Boulevard Brewing Co. will also go well with Turkey and stuffing.
Get the Biggest Savings on Wine.com Black Friday Deals
Celebrating Thanksgiving: How to Decorate
Many Americans are approaching Thanksgiving in 2020 with sadness. Especially those who are cut off from family members. To get your mind off of sad thoughts, wellness experts suggest occupying yourself with creative activities. Think of decorating the porch with pumpkins and harvest colors, painting acorns, and designing a front door wreath. 
Here are some really cool crafts we found online.
Acorn Art
Painted acorns are the type of quaint centerpiece you might see on a display dining room table at Crate & Barrel. It turns out this is a craft anyone can easily do at home. For a step-by-step tutorial, check out HomestoriesAtoZ.com.
The first thing you need to know is that if you collect batches of acorns from the yard or a park, you may end up bringing tiny critters home with you. So before you do anything, get those nuts into the oven ASAP! If there are no oak trees where you live, you can purchase artificial craft acorns online. Those are guaranteed insect-free.
Step 1:
Spread acorns out on a cookie sheet and bake at 170-degrees for about two hours. If some acorns start to crack or burn and it's under two hours, they're done!
Step 2:
If you so choose, you can reattach caps using a glue gun. Just be sure to do this after you roast the acorns!
Step 3:
Use acrylic paints to decorate the outer shell of the acorns, but leave the caps au naturel. Paint with the grain of the nut.
Step 4:
After the paint dries, display your decorated acorns in a glass bowl or in fall-themed trays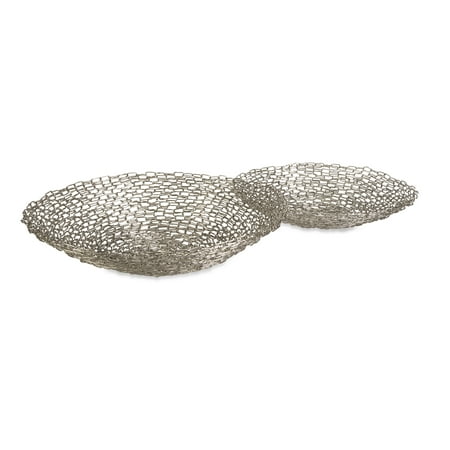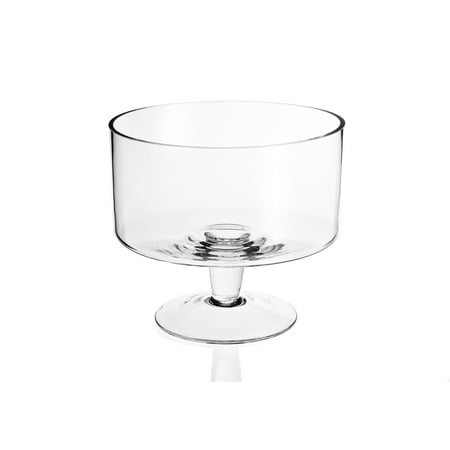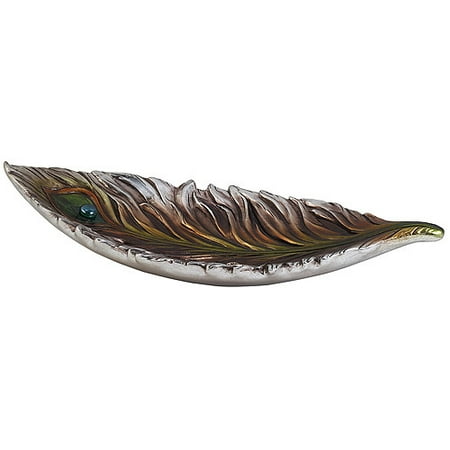 Leafy Garland
This idea comes from GoodHousekeeping.com. The only supplies you need are harvest-themed fabric scraps, which you can purchase in quarter-yards at a fabric store, string, and fusible interfacing.
Step 1:
Use leaf templates to trace different leaves onto your fabric. For each leaf shape, you should have two pieces of fabric.
Step 2:
Place interfacing between two identical leaf swatches and iron them together.
Step 3:
Thread the leaves onto a piece of string. Hang each leaf about every eight to 12 inches.
Tin Can Votive Candles
This craft is from Abeautifulmess.com. You make a centerpiece that spells out a word (like "thanks" or "family") using tin cans. Get free alphabet templates from TheSpruceCrafts.com.
Step 1:
Pick the word you want to spell out.
Step 2:
Gather the amount of tin cans you need. So if you want to spell out "family," you'll need six cans. Remove the labels and any adhesive residue.
Step 3:
Fill the cans to the top with rice and water and then freeze. This step makes it easier to punch holes in the can.
Step 4:
Use duct tape to attach a letter stencil to each can. You can get free alphabet templates at Suncatcherstudio.com.
Step 5:
Use either a punch tool or a hammer and nail to punch holes along the edges of the letter stencil. (While you're working on a can, keep the others in the freezer.)
Step 6:
To empty the cans, defrost them in warm water. This step only takes a few minutes. As soon as some of the ice melts, the frozen rice will be easy to remove.
Step 7:
First paint the outside of the cans with primer. This helps acrylic or spray paint adhere better to the surface of the can. Give the primer a few minutes to dry, then paint (or spray paint) the cans with any color you want. According to Mandi Johnson at A Beautiful Mess, it's much easier to use spray paint for the top layer.
Celebrating Thanksgiving: Making the Perfect Turkey
If this is your first time making a Thanksgiving turkey, you're not alone! This year, more so than previous years, families are celebrating in smaller pods. So that means that those of have typically been in charge of making side dishes or picking up dessert from the bakery, are now forced to jump into the roasting pan with both feet, so to speak. So we checked in with a few experts to find out where most newbies go wrong when making Thanksgiving turkey and their tricks for avoiding the most obvious pitfalls.
Don't Overcook Your Bird!
The first thing everyone should know about roasting turkey is to not bake it too long. Lauren Allen from Tastesbetterfromscratch.com says that overcooking turkey means it will be dried-out and hard to chew. So step one is to calculate cooking time based on the bird's weight. Step two is to be sure the bird is fully thawed out before it goes in the oven.
"A good rule of thumb," says Allen, "is to allow one day in the fridge for every 5 pounds of turkey." And just to be safe, she always gives the bird one extra day to thaw. That means if you're serving an 8-pound turkey, which feeds about six people, then take it out of the freezer Monday night so it's ready to go into the oven on Thursday morning.
Keep the Meat Moist
The title "worst Thanksgiving chef" can stick with for years if you get this one thing wrong. To get a moist and flavorful turkey, The Food Network suggests brining. The editors write, "A typical brining solution contains water, salt, sugar and a variety of spices and aromatics." You can also check out this 15-minute Thanksgiving turkey brine recipe by chef Alex Guarnaschelli.
Finecooking.com has a really simple brining recipe and process. The editors suggest combining kosher salt, sugar and water in a pot and stirring over high heat until the ingredients dissolve. Before putting the mixture in the fridge to cool, add a bit more water.
Make Stuffing on the Side
While celebrating Thanksgiving, keep in mind that it will take a lot longer to cook your bird if you stuff it before it goes in the oven. It also increases the risk of your turkey roasting unevenly. "We prefer to bake stuffing separately in a baking dish, which also gives your stuffing that nice crispy top," says the editors at Finecooking.com. Here's an easy, from-scratch traditional Thanksgiving stuffing recipe, from Averie Sunshine, a cookbook author and popular food blogger, at AverieCooks.com. 
Use a Good Roasting Pan
Never underestimate the value of good pots and pans! Using the right heavy-duty roasting pan will prevent the bottom of the turkey from browning more than the top. Also, the editors at Finecooking.com say "heavy-gauge metal helps keep the drippings from burning" and ensures the bird roasts evenly.
Chefs suggest buying a pan with a stainless-steel interior and 2-inch sides. Bonus points for you if it's non-stick because cleanup will go much faster. Kitchenlife101.com recommends using a roasting pan with a wire rack, like Cuisinart Chef's 16-inch stainless rectangular roaster, $60.
Be Sure Your Turkey Browns
When it comes to roasting the perfect Thanksgiving turkey, tiny slip-ups can ruin your feast. Overcooking the bird will make the meat dry, but don't cook it long enough and it will roast unevenly! Browning and brining makes meat more flavorful, but use the wrong pan and you can kiss dinner goodbye! To get your turkey to brown evenly all over, FineCooking.com suggests rubbing every inch of the bird with olive oil or melted clarified butter.
To get clarified butter, it means to remove the water and milk solids from whole butter. Meggan Hill, an executive chef, offers these instructions, which you can see at CulinaryHill.com.
Step 1: melt European-style butter (available at most supermarkets) in a pan over low heat. Step 2: skim the foamy solids off the top. If you let the butter come to a boil before skimming off the top layer, you'll have to start again with a new batch of butter!
The best butter for clarifying, according to Hill, is imported European butter. They usually contain more milk fat than American butter. Also, Hill says you don't have to throw away the scooped-off solids. She recommends using it as "browned butter" in recipes for homemade cookies, soups, mashed potatoes and to butter bread.
We hope you will find comfort in these ideas for celebrating Thanksgiving in 2020. There is so much to be thankful for this season and every season.